People magazine
2005's Sexiest Men Alive
has been announced. . .Matthew McC, (okay) Anderson Cooper (What, that's the former fool from the Mole), Terence Howard (okay), Nick Lachey (I mean, for the tween, I guess), Orlando Bloom (RU kidding me?)
Whateva. I've decided to put together KPAT's 2005 Sexiest Men Alive: Like to hear it, hear it goes: Now, I have particular preferences, but I'm not going to isolate it to that, I will include the general population of sistahs and their preferences.
Micheal Jordan - Rich, Tall, Dark, Handsome, Dresses Well. He just LOOKS like he smells good. Sexual Chocolate, ladies and gentleman. Sexual Chocolate!
Boris Kodjoe - An all around aestetically pleasing brother. Real Pretty-Like. Someone you would rather stare at than actually be with. Like, looking at a painting.

Denzel Washington - Because he's dreamy. Imma take this picture off with him and Sanaa at a later date.
Richard T. Jones - Isn't he delicious? His character in the Movie The Wood reminds me of a man I know and love. HIM!
Allen Iverson - For keeping it Gangsta, and for being "the Answer" We love you, AI!
Eric Benet- Hello, who wouldn't want a bahamian looking brother whose good looking to sing to you, barefoot, with some linen pants and no shirt. I doubt he is an addict. Probably wasn't getting none at home, BUT ANYWAY. . . Plus, I don't like the way the media has villified him in light of him and Halle's separation. Ain't right, chile.

Jesse L. Martin - Because he's JESSE L. MARTIN.

Shemar Moore: Not particularly my cup of tea, but he's kept it black all these years, we gone give him love. . .

Giancarlo Esposito - This Blaxi-rican man is one of the most talented men in the world. And that, is beauty. Plus, that's Dean. . .Big Brother All Migh-TEE from School Daze!
Ving Rhames - A man's man. Black man hood - come on. . .Notable achievements are the cooking breakfast scene in Baby Boy. Classic!

The black guy on the Mercedes Benz Commercial - Yeah don't know his name. . .But
Isaiah Washington - He has such a regality to him, but not with an air of pomp and circumstance.
Mel Jackson - A cutie from the light skin-ded bunch. He looked so good in Soul Food I couldn't keep him off the list. Blogger kept screwing me so I couldn't download his picture. . . So here is the link you can go look yo-self: http://www.imdb.com/gallery/hh/0413852/HH/0413852/iid_890210.jpg?path=pgallery&path_key=Jackson,%20Mel%20(I)

Keith Sweat: We all have or had his cassette or CD. He looks pimpadocious on this picture though, but that's Keith for you.
Nelly - Thug Passion at It's Best. . .Da Durty, Durty. . .
Back in The Day - Honorable Mentions: Don't front, NONE OF Y'ALL!

Christopher Williams
Reggie Theus
All the guys in Ready for the World
New Edition - Whateva, all of y'all had a crush on at least one of them, shag and all
Phillip Michael Thomas
Julius Erving
Walter Payton
Stoney Jackson

Honorable Mentions - Non Brothers:

Mike Piazza
Sean Connery
Robert De Niro - Because he Loves Us.
Joe Lando
Lorenzo Lamas

The OG's: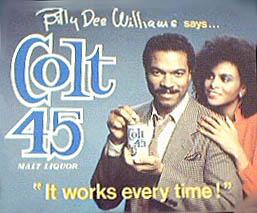 Billy Dee Williams - Please, Please, STOP acting like Billy Dee Williams was not THE man back in the day. . . I have ZERO shame in putting that Colt 45 picture up, too.
Calvin Lockhart - Probably "THE" leading black male actor in the 60's and 70's. Okay, okay, you're still like who the hell is Calvin Lockhart. He's the daddy of the bride that Eddie Murphy was going to marry in 'Coming to America'. DAYUM!
Max Julien - "It's the Mack!" (HAHAHA inside joke) - And, the poster is 66 percent off!
Richard Roundtree - Shut Yo Mouth!

RIP:


Paul Roberson - The quinteseential scholar-athlete, the closest thing in the early century of what it meant to be a black superstar. . .
Sam Cooke
Tupac Amaru Shakur
Marvin Gaye - Okay, two things: One, doesn't it look like he's saying "Bayyybbeee", and two, if you haven't heard him sing the Star Spangled Banner, do so immediately.
Walter Payton - Sweetness, he is.
Malcolm X

I hate to miss someone. . .Please feel free to add. . .Would love to hear from you.