I was ROLLING! I didn't know which was funnier - HIS comments or other peoples commentaries. In any case, it had been something that I had been thinking about for awhile but never really put the post into manifestation, not wanting to sound like a player hater regarding the people that just get on my nerves (which coincidentally, Playa HATER also corresponds with the initials to my name). In fact, one of my other favorite reads,
the artist formerly known as T-Cas,
used to go on his various rants and raves regarding these folks, one of which was the singer Joe, to which he has readily admitted that he has no valid reason not to like him. . .
There are innumerable celebrities, that, even though I am by no means
BFF's
with ANY of them, that there is just SOMETHING about them that I can't put my finger on, that just annoys the hell out of me. Not annoying to the point where I'll put up a blog in the name of extinguishing them from all public rememberance, but just annoying enough where I'll have a comment or so periodically regarding them. You know, annoying, like a chalkboard screech or someone smacking gum. So, without further adieu, here's my Ten Spot, my "There's Something About Them" that works my nerves. True enough these people will forever have more money in one day than I make in a calendar month, so who am I to say anything? I'm P, that's who. Also, my irritation is an equal opportunity employer - you will find a spread of men and women, black and white, Jews and Gentiles.
Kathy Griffin.
I don't like this chick. She's not funny, nor is she entertaining. I don't understand her brand of humor and I don't think it's because she's not black. And YES, I felt this way before she made it known that she was a militant
atheist
and told Jesus to "Suck it" at the Emmy Awards (thought that certainly didn't help her cause). Her faces looks contorted and she just looks mean spirited. Not a fan at all.
Erykah
Badu
: I expect to get some flack and lose some cool points from this one, no doubt one of them being from
Sha

-Boogie
. I never got into her '
neo
soul, sticky-icky, you have understand what she's saying to feel what she's saying hidden meaning shit' that she does. I just never bought the whole
Africana
Soul sister number one cutting her hair,
philosopicizin
way about her. Personally, it's annoying. There are a few songs that I like from her, (two, at best, three - Tyrone, Next Lifetime, and some other one I don't feel like remembering).
Baduizm
: Not for me.
George

Clooney

:
What's up with this guy? He's CORNY. I can't even look at him without thinking about him being on the Facts of Life. He's running on a bunch of hot air to me. Plus he looks like an asshole. At this point, I know my post is sounding like I'm a hater, but I just don't like the cat. He does NOTHING for me.
Eve:
She ALMOST didn't make make my list. I KIND of like her so we will just asterick her, kind of like Barry Bonds home runs and the first San Antonio Spurs half season championship win. . . .BUT. . .Something about her smile is really sinister. And, even though I know she grew up stripping and freaking, I think that
Hollyweird
has really took her by storm, and I don't think she is as soulful as she claims to admit. And the whole glossy gloss appeal makes me do nothing but, well, look at her gloss. Granted, you have to dot your eyes and cross your
t's
in this industry, and keep with good company - otherwise you'll end up a disgraced owner of Bad
Newz
Kennels; however, she just weirds me out for no full authentic reason.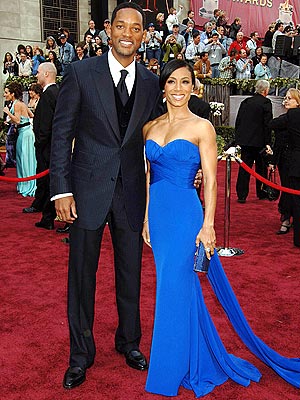 Will and Jada:
Just a personal thing. He's weirded me out since Fresh Prince. He scares me and I don't know why. I also don't think he's a very good actor. I think he is an OK actor. I think he is even less of a comedian and an above average rapper. She, Jada, Wicked Wisdom Jada, producer
extraordinaire
Jada, was two snaps and a twist away from a life of oblivion, with notable movies such as "A Low Down Dirty Shame" AND "Woo" before she was rescued by Will. I also think that both of them are
freek
-a-leeks, but that might me just
OD'ing
on too many
gossip blogger sites
.
Aisha Tyler:
I'm not sure where she fits in in the scheme of African American actresses. I don't like the 'sister girl' attitude that she tries to reflect. It's inauthentic. I don't like the way she wears her makeup, either it looks ridiculous.
Rosie O'Donnell:
I would suppose this is a given; although I know that many people are Rosie fans. I can only say that I think that Rosie is a very, sad, unhappy, bitter individuals that disguises that pain into political and personal rants and raves. I also think that her sexual preference gets inserted in there at will and she also uses that as a tool to ignite
unnecessary
controversy. I believe that, even though she has very vocal opinions, ANY opinion that is unlike her own is invalid to her, and thus, subject to a round of Rosie Rants.
Justin Timberlake. He lost his card after the Janet Jackson debacle. He's not cool. But he, and the listening audience seems to think so! And he didn't bring Sexy back, even Prince said so! :). And, I just don't like that "I'm Justin Timberlake" look that he has on his face all the time.
Rachael Ray: How many effen times can you make something in thirty minutes (or less) that involves Chicken Stock, and a little bit of EVOO? I don't know how she manages to cook meat and pasta, dessert and a little bit of anything else in the course of that time and everything turns out "YUMMO!". Eew. No thanks.

So, again, even though these people have obtained obscene amounts of money and fame beyond what can imagine, these people, are in fact, on my warm close personal list of "There's Something Not Quite Right" about these folks. I could be as far off as Michael Vick having a chance in hell in getting elected to the hall of fame, or I could be SPOT on.
What Celebrities are YOU just not feeling, and why? Any honorary mentions to add to the list??