I love news stories and the facts regarding history and the events leading up to what made something, in fact 'History' - Traumatic or Otherwise. . .
But there are particular stories (besides the obvious - 09/11, etc) that I remember. The unfolding and the events after it. Some of which become embedded in our hearts and minds that last forever. It could be a personal story, or a national story, ripped from the headlines, or just some basic drama, which I personally LOVE.
Just so you know: Most of these stories (sans two) are pre-internet/email/cell phone boom. So they were particularly riveting because you had to wait on information, and when you did get it, it was heavy in weight because there was so much to say. So, without further adieu, there are a few in particular that stick out in my mind. Shout out to
That Girl
for telling me about Photobucket)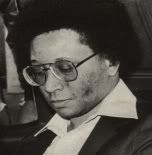 Atlanta Child Murders
- Man, oh, man, oh man. Atlanta, Lynwood, no difference to me. I stayed in the house for most of that summer (living IN CALIFORNICATION) over that sheeat. I was scared-ded, TRUSS! All I knew was that somebody was killing little black children and that was enough for me to play with my easy-bake oven, colorforms, etc right on the inside of my house. And the porch was a STRETCH. And when they found that (insert little girl voice) "bad, bad man" was put in jail. (Needless to say, we know the REAL Deal regarding
Wayne Williams
and how janky that investigation went).
1989 San Francisco Earthquake
. I remember I was on my way to Junior College then, getting ready for school. And they showed the picture of a freeway. Initially, when looking at the freeway, I wondered what the big deal was, it looked only as if the freeway collapsed. Upon further inspection, I found that yes, the freeway, did INDEED collapse, but that it was a double decker freeway, and one had fallen on top of the other, killing everyone under there in a vehicle. Even now, looking at the freeway, because it was smashed so closely together, it's a painful site to look at. I remember all day I couldn't get my mind off of it, because I couldn't believe something so devastating had happened so close to my home. For those of you who have never seen this, look closely. What looks like one freeway is really one smashed on top of the other. I remember the only fortunate (for lack of a better word) thing that occured regarding this was that it was a Monday, some holiday, I forgot which one, and the freeways were less crowded than they normally would have been.
McMartin Abuse Scandal

.
I wasn't but about ten years old when off of this started going down. Everyone was terrified. All kinds of ritualistic allegations were brought to the attention of the courts. It ripped apart a nation, tore down innumerable pre-schools, and took a a family (McMartin),
down a long and shadowy road
. It was one of the first modern day examples of what
Mass Hysteria
can do, even in the interest of protecting beloved children. There was an HBO special not too long ago that chronicled this story. The case went on for YEARS, no one was ever convicted, and all charges were dropped in 1990.
Whitney and Crack. Crack and Whitney. From the illustrious singing career on the path to legendary status, to being reduced to "Hell to the Naw" on Bravo's Being Bobby Brown, the decline of Whitney Houston before our very eyes is equally painful and amusing (in a sick kind of way) to watch. We went from believing that she was MAYBE smoking some sticky-icky, to us thinking "Is this girl really smoking?", to "Crack is Whack", to "What the Eff?" Ah, the perils of Whitney Houston.
Loving and Losing Aaliyah
. I don't believe I realized how very much an Aaliyah fan was until she passed. Thinking about it now brings tears to my eyes. The video, Rock the Boat is especially haunting for the obvious reasons. Somehow looking at the video, it's beautifully haunting, particularly at the end. I'm not trying to glamourize her death; but I can't help but look at that video and think of so many things while watching it. I couldn't watch it the whole way through for over a year and even now I don't particularly like watching it. I can imagine how her family must feel. She wasn't a songwriter, but she had a particularly pure voice that I loved, and love to this day.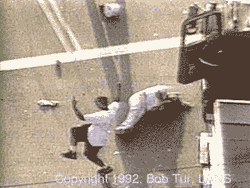 April 29th Brought Power to the People - And You Might See A Sequel
. Don't know about you, but everyone OUT here remembers where they were when the verdict was read, and the Los Angeles Rebellion began. I personally was at home that day, didn't have to go to work, or to school. My mother was at the funeral of one of her best friends. And to hear that verdict - It was surreal, it was painful, and prolly my first full twang of recognizing that my life had no value with the LAPD, particularly to the residents of Simi Valley. Then, the news came on. Even though I did not physically live in LA, I was once a resident of Los Angeles, and
My college
was right in the heart of Los Angeles, and they shut down for the remainder of the week. It was mass hysteria out here. And the newscasters didn't understand that it wasn't a riot. Yes, there was foolishness, and there was terror, but there was pain. Probably not manifested and carried out properly, but I understood. I understood that they put the national guards in areas that they didn't want touched, like Brentwood and Beverly Hills, but what we did, well, that was a different story.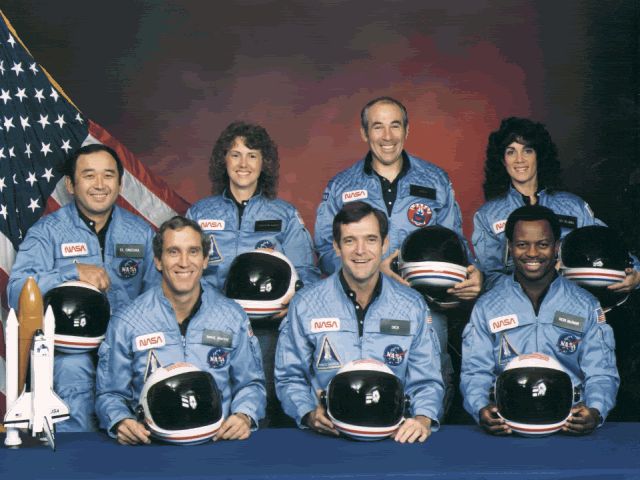 Space Shuttle Challenger Explosion
I was in the tenth grade, and my Algebra I teacher brought the TV in so all of us could see the launch and liftoff. We all knew that a teacher, Christa McAuliffe, was going to be on flight. He was especially excited about that. So we watched, and we saw the liftoff. And we just watched.
And then it happened.
But it was like 'it' didn't happen. Anyone who has seen
images
of this remembers how we felt. This, too, was surreal, and as a 15 year old child, in a class with other students waiting for the other shoe to drop, the other punchline, waiting for the teacher to tell us that everything was okay, that something had just happened, but it will be okay, was an experience that remains embedded in my mind forever. It was tragic all the way around. The world was riveted.
Are any of these near and dear to you? What news-making stories Do YOU remember the most?