Remember when cars were more than cars back in the day? They were status symbols. Even more than they are now. Sure, we get all of the Attention Deficit Disorder inspired children who look at cars that the current top 40 Hip Hop Artist has in their
'Cribs'
inspired garages, but most of that is in excess, and even in the most Generation Y hype, they even know that.
But ah, back in the day, the place where we partaked in indulgence to the nth degree, complete with turkish necklaces, burgundy and blue black cellophanes, daytons and inky rims, feathered hair, jheri, california, and s-curl inspired looks, when we looked out in the world through our 'EK' and
Laura "Ba-Gotti"
sunglasses, we were often escorted (via friend, lover, or somebody's else's ride), we was rolling in somebody's borrowed, owned, or soon to be reposessed vehicle. Here are some of the more memorable cars from back in the day.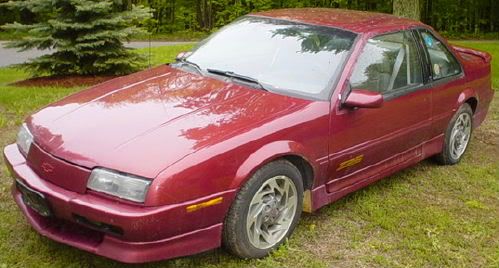 Chevy Beretta
HAHA! What y'all know bout this bitch, yo. Man, my friend's boyfriend had a white one with
Daytons
on it. We were equally star struck as well as terrified to ride in it, considering that people were getting killed over those rims back in the day. But he would pick her up in front of the school, IN FRONT of everybody, and boyyyee!! The looks she would get. AND he had a pullout!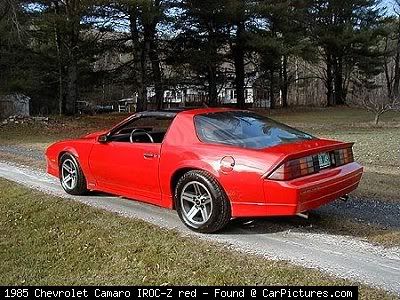 IROC - Z:
Sheeot! That was IT, and that was ALL! I was a senior in high school and this guy that used to dig me, his name was Darnell (how played out is THAT name), offered to take me to and from work for a minute. He had THIS car with T-TOPS. When he took me to work, playing Keith Sweat in the car, you couldn't tell me a mutha fucken thang. I had a blue black cellophane, Magenta Mist lipstick from
Fashion Fair
, and Curved nails, with charms on them to boot, accentuated with Garnet Red nail polish. AND HE had a California Curl. I was his freak that he could show off. I think he was slanging. See below for the other car he had.
The Mini Blazer
- That was the other car he had. This fool was rolling. It was blue with all kinds of what is now know as
Pimp My Ride
graphics on it. It was lowered with rims on that as well. He lived in Compton in cuz territory , so it was blue. I often wondered how he was able to take the IROC out for a spin and not worry about being harassed by the crips, (y'all this was some SERIOUS business back in the day), but he seemed to have no problems. Anyway, this truck was the bomb. See, you had to get the MINI blazer. The big blazer was oh, so not cool.
Mustang 5.0
- Ooh, Wee! See, now, you just couldn't have ANY mustang, yo. We wanted to know if you had a
Five-Point-O
mustang! And if you lied, see we could check, because if it did-ent say so on the car, then you just had some regular sheeot going on. Don't have NO
european plates on them man
, you were set! You were cool if you had the hard top, but if you had the CONVERTIBLE 5.0, then you were doing big thangs, big thangs, probably most of which were illegal.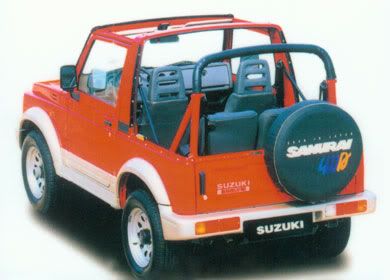 Suzuki Samurai
: Um, prolly in my top five list of the most dangerous vehicles ever made. Designed to kill, I say (Ford Pinto tops the list, and bringing up the rear in a CLOSE second is the aptly titled Pontiac
Fiero
). These cars were cool and fun, and were this close to tipping over faster than a one hundred pound man with a bottle of Mad Dog 20 20 in his back pocket. But it was cool if somebody had one.
300 ZX
- Who would have thought that we would drool over the sequel to the much beloved classic 280 ZX ?? (which by the way, I would STILL roll in that bitch). This car was it, and usually was accompanied by T-Tops and some serious Pioneer - laced sounds. Rolling in this (and I did date a guy that had this car, you couldn't tell me nothing), was the epitome of being grown. PS: I dont know why I thought I was so cute in his car that sheeot wasn't mine I was rolling a nine year old Toyota Cressida with the automatic seatbelts that potentially could render you unconscious if you weren't paying attention.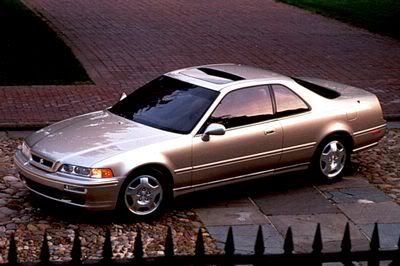 The Legend
: Yes, that one. The Acura Legend. I personally have a conspiracy theory regarding this car. I believe that they knew that I would just be too sexy for my shirt, to drive this car, and before I could get out of college, they discontinued it. I also believe that the executive or upper management personnel that were responsible for making this decision were eventually managed out of the business, because this is, in my personal opinion, far and beyond, the very best car they have EVER made.
What were YOUR cars back in the day? Did you have one? Or only DREAM of having them?