So, Julia Roberts
is highest-paid actress
- at a whopping 20 million dollars a picture.
Nicole Kidman crosses the finish line at a close second, with a per-movie price of $16 million to $17 million, followed by Walk the Line star Reese Witherspoon and actress-producer Drew Barrymore, (that's a joke) who each command $15 million per project.
Everyone else on the list is not surprising - Jennifer Aniston is questionable. I never got anything about her besides her hair, which is absolutely gorgeous. Personally, the most legit person on there is Jodie Foster.
Some people dropped off from last year - Halle Berry, Sandra Bullock, and Jennifer Lopez. Okay I'll bite, the only person on there that I believe can carry a movie somewhat is Sandra, and that's pushing it. Yes, I know. I have tried, but I just can't get into Halle/Jennifer's acting. Halle seems cool but I can't feel her, you know?
With that said, once again, we've got to create our own list of bankable women. Phenomenal women, that's them.
Angela Bassett - This woman has been robbed of her glory. We love her, sure, but we all know what this woman is deserving of, and more.


Tyra Ferrell - The momma from boyz in the hood. Have you seen a true to life actress as good as this. And I don't see her in any roles at all. Did she disappear into the oblivion.
Lynn Whitfield: What a beauty and star in her own right. She can play a down trodden woman, she can play period pieces (Josephine Baker, anyone?) And her role in Eve's Bayou was nothing short of Oscar Caliber.


Lonetta McKee. She has been around a long time playing character actors. I really feel for these women. There are so many rich roles not granted to us and I truly feel that she is one of the best. She is a class act.

Diahann Carroll: Dis Julie and Claudine y'all! That's enough to get her on here, GP style. She was also the wife of the man who got killed in the Five Heartbeats. Let's not forget she was Dominique Devereux, the first black character on Dynasty. She was nominated as best actress for her Claudine role. If you don't know about Claudine, you should have it in your collection. They have it for the low, low price of five -ninety-nine at Target and Walmart.

Cicely Tyson: Stellar black acting. A woman way before her time. A woman after my own heart. She can play and do anything. She was also nominated for her role in Sounder. Yeah. Get that one too for your blacollection.


LisaGay Hamilton - She's that chick from the Practice, but played in more stuff than that. She's raw, she is real, and she transcends into her characters.
Sanaa Lathan: She feels her characters. Come on, when you were watching love and basketball, and she was doing one on one with him for his heart, couldn't you just feel the thud of MichelleNdege Ocello pulsating in your own heart. You couldn't help but root for her.

Alfre Woodard: Just the mention of her name. I don't know anything that she has been in that I wouldn't watch. Only because she is credible, true to form, and spectacular in her delivery.


Pam Grier-She's on here because she's Pam Grier.
Lena Horne: Because it is what it is. And she's it.

Debbi Morgan - Totally underused, underpaid, and everything in between. Did you see her in Eve's Bayou? And you only thought she had nice dimples?

Nia Long - I think she is wonderful and well on her way to landing the role of a lifetime.
Salli Richardson: She doesn't let her beauty get in the way of playing some good characters. I mean she can really act. She once cut all of her hair off so she could be taken more seriously. Okay, Salli, "We like you, We really like you!"
Gabrielle Union: See Nia Long Comments

Regina King: She killed it in her Ray role. Plus i liked her in 227, no lie.

Jenifer Lewis - Jenifer Lewis is Bad. . .Period.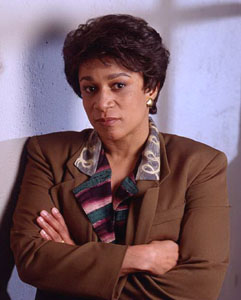 S. Epatha Merkeson - She has one of the longest standing lead roles on Television (law and order). She just won an emmy for Lackawanna Blues. She is wonderful.

CCH Pounder - A character actress with a lot of character. She deserves so much more.

RIP:
Madge Sinclair

Rosalind Cash - Who is one of the very best, black or white, BAR None.
Hattie McDaniel - The one who paved the way.

Beah Richards - I just loved her to pieces.

I am leaving people out and this is not my intent - People can you help a sista out.

See these sites for additional information

Mahogany Cafe- A tribute to black actresses in film and television